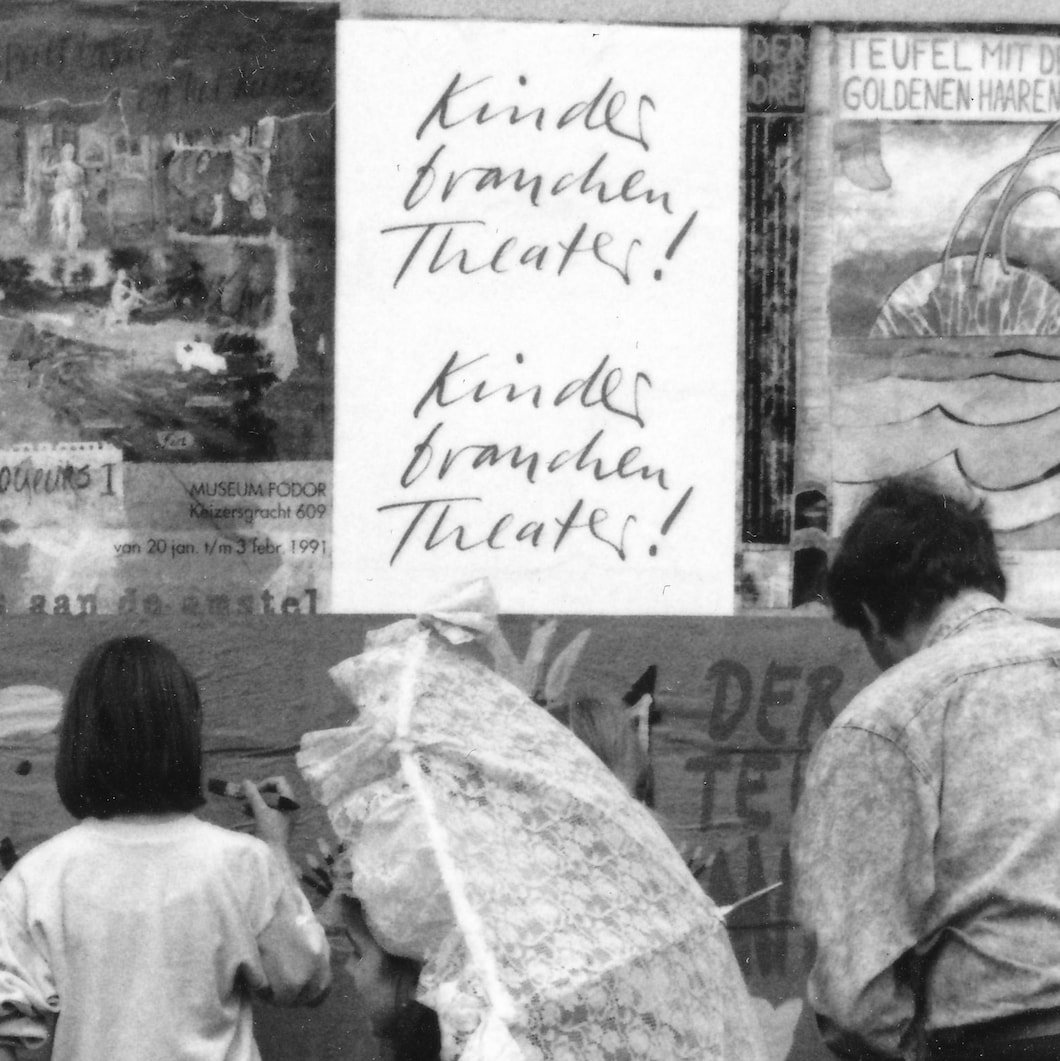 From a Specialised Theatre to a General Theatre
How the understanding of the art of theatre for young audiences has developed over the past 30 years

by Gerd Taube

It is a characteristic of this theatre art, regardless of its name, be it children and youth theatre, young theatre or theatre for a young audience: It is defined by its audience. These specifics have been the fundamental constant in the development of this theatre over the past 30 years. But the different denominations that emerged over three decades also indicate a change. The understanding of the art of the theatre for young audiences has changed and those changes can be tracked over time by following the discussions of theatre professionals that took place at the AUGENBLICK MAL! festival. In particular, it is the self-concept of the theatre artists that has changed in the past 30 years.
In 1991, the first German Children and Youth Theatre Encounter, as the festival was originally called, was opened with a quote from the speech that Soviet theatre director Alexander A. Brjanzew held in 1921 at the opening of the Leningrad Theatre for a Young Audience. In his speech, Brjanzew formulated his credo that the theatre that found its audience should also be able to find its own style. With this, he had formulated the self-concept for the following generations of theatre makers: children have the right to a theatre that suits them. Therefore "stage artists that are capable of thinking like pedagogues" should come together with "pedagogues who have a drive to feel like artists''.
This statement marks a line of conflict, which to this day occasionally determines discussions about the theatre for a young audience: the relationship of art and pedagogy which is particularly evident in the artists' attitude to their young audience. Throughout the discourses of the past three decades, there has been talk about the emancipation from pedagogy, i.e. that art can overcome the perceived didactical approach. At the festival in 1991, that primarily meant overcoming the emancipatory children and youth theatre of the old Federal Republic in the 1970s, from which the understanding of a modern theatre for young audiences had evolved. One equated the progressive impetus of this theatre with pedagogical didactics and failed to recognise the fact that any kind of theatre experience comprises inspiration for contemplation, and that art, especially that for children and adolescents, does not exist as an end in itself. And yet, social nonconformism that had helped the emancipatory theatre to break through with its art still is the basis of what theatre makers set out to be, artists who question the world as it is with their art and thereby devise social utopias.
»Children and youth theatre must be upsetting and should not leave you satisfied. It must make you think, make you angry, it must delight, make you laugh and cry, make you speak, encourage (even in desperation), make you dream - but not the kind of dream that takes you away, but that gets you there, it must make you hungry for achieving those dreams.« 1
»Kinder- und Jugendtheater muss unruhig machen und darf nicht zufrieden stellen. Es muss zum Denken bringen, wütend machen, Lust machen, zum Lachen und Weinen bringen, zum Sprechen bringen, Mut machen (auch verzweifelten) zum Träumen bringen – aber nicht zum Weg-Träumen, sondern zum Hin-Träumen –, es muss Hunger machen auf die Verwirklichung der Träume.« 1
Part of the theatre makers' mission today is, as it was back then, that the theatre for a young audience must bear reference to the world of children and adolescents. This can be noticed by looking at the themes of the productions that were invited to the AUGENBLICK MAL! festival over the years. Apart from currently relevant issues that reflect three decades of changes in childhood and adolescence, there are universal topics that appear as a constant throughout the festival's programme: dreams, fears and longing, questions of identity, the meaning of life and happiness, death, love and violence. The selection of topics demonstrates that the theatre makers understand childhood and adolescence not as spheres separate from society's everyday life. They take children and adolescents seriously as self-aware participants in this life and develop their art in a critical analysis of the world they live in.
»In these six festival days, the contemporary children and youth theatre takes centre stage as exactly what it is: an independent and strong form of art which is a dialogue with the realities of their young audience and therefore permanently in motion.« 2
»In diesen sechs Festivaltagen steht das zeitgenössische Kinder- und Jugendtheater im Mittelpunkt, und zwar als genau das, was es ist: eine eigenständige und starke Kunstform, die sich im Dialog mit den Realitäten ihres jungen Publikums befindet und somit permanent in Bewegung ist.« 2
Another strand of development detectable in the discourses at the festival over the past 30 years, is the changing identity of the children and youth theatre as a specialised theatre for young audiences to a general theatre that sees itself as open to everyone even though its artistic focus is set on the interests and needs of a young audience. An indication of this development is the increasing dissolution of boundaries. Particularly in the 1990s, the emphasis on the dividing line between youth and adult theatre was motivated by cultural politics, and the specialisation for children and adolescents was highlighted as an exclusive criterion. With the beginning of the 2010s, however, it became increasingly clear that there are other theatre and performance artists who also perform for a young audience and their handwriting acted as an impulse for the artistic development of children and youth theatre. In the past two decades, theatres and theatre makers have increasingly overcome the institutional boundaries between each other. A plethora of co-operation schemes form the basic modus vivendi of contemporary theatre for a young audience: sections of young theatre at municipal theatres, production houses and festivals co-produce with independent theatres, collectives and artists.
»What motivates the partners, to do it with each other? Despite all their dissimilarities? The differences! What do you have that I don't have? That is the audacious - because it's evidently envious - question that one should dare to ask. With courage that overcomes the pride of boundaries, that pushes aside the anachronistic contempt for the supposedly poor cousin, that laughs in the face of the fear of those colleagues who are civil servants at municipal theatres and that views with sober greed the reserves and resilience, the composure and order, the unifying potential of each other.« 3
»Was bewegt die Partner, es miteinander zu tun? Bei all ihrer Verschiedenheit? Die Unterschiede! Was hast du, was ich nicht habe? Das ist die Frage, die erst einmal mutig – weil öffentlich neidvoll – gestellt sein will. Ein Mut, der den Hochmut der Abgrenzung überwindet, der die unzeitgemäße Verachtung für den angeblich armen Vetter beiseite schiebt, den Angstfantasien von den angeblich verbeamteten Kollegen der Stadt- und Staatstheater entgegenlacht und den Blick in nüchterner Gier auf Fettpolster und Spannkraft, auf die Gelassenheit und Ordnungen, auf die Vereinigungspotenziale des jeweils anderen richtet.« 3
This differentiation of theatre makers who opened their art for a young audience had also reinforced a trend that began in the 2000s: the boundaries between the different forms of theatre are tumbling. Theatre makers who enjoy experimenting in the children and youth theatre scene, enjoy trying out possibilities beyond and across genres. This can be clearly seen in choreographic, rhythmic, and physically intense works, in the form of dance, the usage of audio-visual media and their orientation towards pop and comics culture. And in addition, joint action of professional and amateur actors on stage began to gain a foothold. In such opening scenarios, the professional work of artists in the field of children and youth theatre developed and the mission of such theatres as an actor's theatre changed with the overcoming of genre boundaries and it became interdisciplinary art in thought and action. And this is precisely how theatre for young audiences defines itself today: as an independent art form.
»There is an enormous breadth of styles, ways to read, manuscripts, aesthetic approaches to sources and topics. The polyphonic children and youth theatre keeps adding voices. These approaches demonstrate that the artists trust the children and adolescents to understand that theatre is a special media among many others. Cross-over-productions with other forms of art are becoming more and more common.« 4
»Es gibt eine enorme Spannbreite an Stilen, Lesarten, Handschriften, ästhetischen Zugängen zu Stoffen und Themen. Das polyphone Kinder- und Jugendtheater wird immer vielstimmiger. Die Zugriffsarten zeigen, dass die Künstler den Kindern und Jugendlichen zutrauen, Theater als ein besonderes unter vielen Medien zu verstehen. Cross-over- Produktionen mit anderen Kunstformen werden immer selbstverständlicher.« 4
The festivals in the past 30 years have reflected all the described developments in the productions that were invited, and they were discussed by theatre professionals with the aim of strengthening the theatre for a young audience - as part of extracurricular cultural education, as a third place of learning and as dramatic arts for a young audience. The theatres, collectives and groups who are producing theatre art for a young audience under very diverse circumstances have become an integral part of the theatre landscape in Germany and the German theatre system could not do without them. They pool the resources of theatre art for young audiences, and for those resources they continuously clash with cultural policies. In this conflict the theatre makers are supported by their representatives, the ASSITEJ Germany, now with healthy self-confidence. And every year new people and institutions join them, perhaps from the independent scene or from a state theatre. So, the full development of the landscape has not yet been achieved and there are still enough places that need such a theatre.
The self-concept of theatre makers will continue to evolve. The past 30 years have laid the groundwork for facing the coming challenges and offer a good starting point for the future.
1 Günter Jankowiak: Zwölf notwendige Sätze zum Kinder- und Jugendtheater, in: Kinder- und Jugendtheaterzentrum in der Bundesrepublik Deutschland (Hg.): Augenblicke. Zum Theater für Kinder- und Jugendliche in Deutschland, Frankfurt am Main: Verlag der Autoren, 1992, S. 153.
2 Bernd Mand: Bedeutsam. Herausragend. Impulsgebend. Ein Reisebericht über die Suche nach zehn besonderen Perspektiven, in: Festival des Theaters für junges Publikum Augenblick mal! 2013 (Programmbuch), S. 27.
3 Peter Fischer, Ina Kindler-Popp, und Franziska Steiof: Offene Fragen – Vorläufige Antworten. Bericht der Auswahlkommission, in: 7. Deutsches Kinder- und Jugendtheatertreffen Augenblick mal! 2003 (Programmbuch), S. 25.
4 Werner Mink und Anne Richter: Offene Grenzen und Türen, in: Festival des Theaters für junges Publikum Augenblick mal! 2009 (Programmbuch), S. 19)